The Clemente Legacy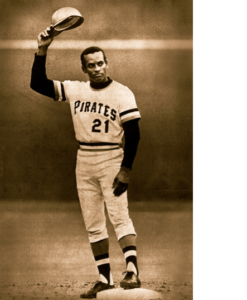 A Humanitarian and Gift to the World
Roberto Enrique Clemente Walker was born on August 18, 1934, in Carolina, Puerto Rico.  The son of a sugarcane worker, Clemente began his professional baseball career just after finishing high school. A proud native of Puerto Rico, Roberto Clemente was one of the most decorated athletes in American and Puerto Rican baseball.  Before coming to the USA, he played for Cangrejeros de Santurce, a franchise team in the Puerto Rican Professional Baseball League.  Here in America,  Clemente played 18 seasons in Major League Baseball for the Pittsburgh Pirates, celebrated as one of the league's Most Valuable Players, and earned other coveted awards.  Clemente was the first player from the Caribbean and Latin America to win a World Series as a starting position player (1960), to receive a National League MVP Award (1966), and receive a World Series MVP Award (1971).
Clemente recorded his 3,000th career hit late in the 1972 season, becoming just the 11th player to reach the milestone. Clemente and the Pirates won the NL East that year, but lost to the Reds in five games in the National League Championship Series.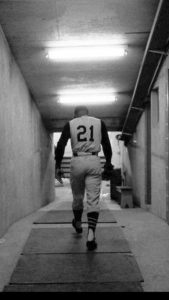 Off the field, he was widely recognized as an avid humanitarian and philanthropist, particularly channeling his support to Latin America. Roberto Clemente was actively involved in charity work in Latin American and Caribbean countries during the off-seasons.
Off the field, Roberto Clemente was described as a quiet gentleman. He was proud of his Puerto Rican heritage and stood up for minority rights.  Clemente married Vera Zabala in 1963, and they had three sons.  Tragically, he died in a plane crash on December 31, 1972, en route to Nicaragua to deliver relief supplies to earthquake survivors.  The heavily loaded plane crashed just off the Puerto Rican coast, and Clemente's body was never recovered.
He was elected to the Hall of Fame in 1973 in a special election that waived the mandatory five-year waiting period.