Yellow Jackets Story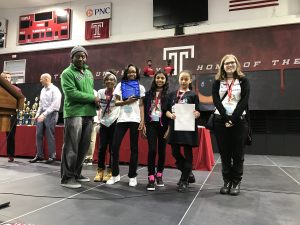 Clemente has a history of winning. In 2017, the Yellow Jackets, were victorious at the Seaperch competition. They received a trophy that showed their struggles and efforts that made them winners. Earlier in the year, the team competed in their first "First Lego League" (FLL) competition.
In previous years, our team proudly won other Seaperch competitions.
#1 Overall in the 2016 Sea Perch Competition
Roberto Clemente Promise Academy as we won 1st Place in the 2016 Greater Philadelphia Regional Sea Perch Competition at Temple University on Friday, 4/29/16! We have been working tirelessly all year as we planned, designed, and built our Sea Perch, documented our work in a scientific notebook, and created a robotics and engineering company that presented our work to U.S. Naval Captains. We entered in this year's competition versus 50 middle schools that consisted of numerous public, charter, private, and parochial schools from all over Pennsylvania, New Jersey, Maryland, and Delaware. Our team at Roberto Clemente has over come some challenging obstacles with grit and heart as we only had access to a small and shallow pool at the Independence Sea Port Museum four times this spring, while working two days a week after school, and we participated in the competition for only the past three years. This year in only our 3rd year of competing, we took 1st Place Overall in the entire competition versus 50 schools, as well as 1st Place in the Engineering Design, 2nd Place in Overall Vehicle Performance, 2nd Place in the Scientific Notebook Design, 2nd Place in the Company Poster Presentation to Naval Captains, and 3rd Place in Team Spirit! Our team is excited to be the first ever to represent the School District of Philadelphia Public Schools by winning the regional competition, and also to be the first to represent SDP Public Schools as we advance to the 2016 U.S. National Sea Perch Competition in Baton Rouge at Louisiana State University in Louisiana on May 20th-21st! At nationals, we will be competing against 150 middle schools from all over the country! We are very proud of our team's determination and our drive to overcome all obstacles to become the best we can be, and to represent the School District of Philadelphia Public Schools in this year's National Competition!