CLICK THE IMAGE & Meet your Teachers for the  2020-2021 school year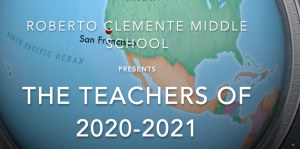 Dear Clemente Families:
Hello and welcome back to a bright new school year at Roberto Clemente Promise Academy. It is my privilege and my pleasure to introduce myself as the principal of Roberto Clemente Promise Academy.  I hope you are enjoying the summer months and are rejuvenated and ready to begin the new school year.  We have great work to look forward to as we strive to make Clemente Promise Academy a high-performing place of learning.  Our charge for this year is to continue to strive for excellence for all students by offering world-class educational opportunities to all of our students.  In the tradition of years past, our theme remains, One Family, One Promise, One Culture, One Clemente, as we renew, reenergize, and rededicate ourselves to the work of educating children.
On September 2, 2020, Roberto Clemente Promise Academy will re-open its doors for students in grades six through eight. We welcome you into our fold. Even though the beginning of the year will operate remotely, our team is excited to kick off this brand new academic year.  As we continue to improve the instructional program at Clemente, we hold firm that high achievement for all children is our primary goal.  We are very pleased to have you and your child as a part of the Clemente family. You and your child are the life of our school.   We look forward to meeting you at Virtual Back-to-School Night on Wednesday, September 30, 2020, from 5:00 p.m.-7:00 p.m. Let's work together for a successful academic school year.
Educationally yours,
Mrs. Paulette Gaddy, Principal
Mrs. Patricia Garnica-Cimorelli & Mrs. Kári D. Hill, Assistant Principals
Our Mission
Our school is a welcoming community of learners that engages academically talented students.
Roberto Clemente Promise Academy in partnership with the Parents and community will provide exceptional service and educational experience to the students and families of the school.  Students will be provided with instruction that offers equitable learning opportunities to our diverse student population in a safe and orderly environment.
We will link home, school, and community to ensure a positive education that fosters student's excellence and success. Our focus at Clemente is to support a challenging and rigorous academic program. The design of our school day will help us to support this endeavor.  Students will be provided with meaningful interventions, support, and enrichment.